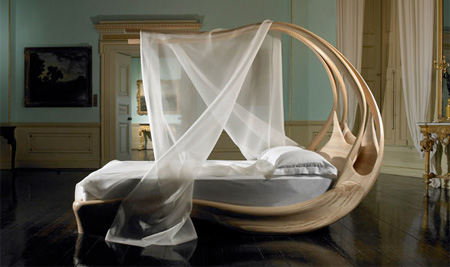 1. A friend is coming to have sex. There are 3 twin beds and an air mattress in the room. What do you do?
a. Have sex where ever we land first, who needs a bed?
b. Have sex on a single twin mattress
c. Have sex on an air mattress
d. Or?
2. What is the oddest thing you have in your bedroom that someone would be surprised to find. Why is it there? Right now it's the twin mattress on the floor. My queen bed needs replacing and I'm waiting for the department to get me a new one, so at the moment I'm sleeping on the twin on the floor because I don't feel like moving over to my spare room.
3. What are your favorite sheets?
a. Flannel
b. Cotton
c. T-shirt cotton (jersey)
d. Satin
4. Do you sleep with sheets tucked in or out? Why? Out. I like balling myself up in the sheets, but I don't like the feeling of being stuck when they're tucked in at the sides and the end.
5. What is your usual bedtime? Why?
a. 8-10 pm
b. 10-12 midnight
c. 12-24
d. Whenever my eyes won't stay open any longer.
5. Do you sleep with closet door(s) shut or open? Bedroom door shut or open? Any particular reason why? Doesn't really matter to me.
6. Have you ever broken a bed or other furniture during sex? I have popped out some sofa bed slats, but we put them back in and kept going
7. What's your favorite type of bed for sex? Haven't tried enough to figure that out.
8. What do you sleep in?
a. Lingerie
b. Underwear
c. Day clothes
d. T-shirt
e. Nothing
f. Pajamas
Check out this week's other players!